Bali's dive sites are scattered to the four winds, but we can outline them into a few main areas. The first area is located at the east coast with the villages Padang Bai and Candi Dasa as well as the offshore island Nusa Penida. The second area is at north-east. Dive sites are located in Amed, Tulamben and Kubu. The third area is in west Bali and contains the National Park Pulau Menjangan and surroundings like Pemuteran or Gili Manuk. Unfortunately west Bali is quite far from Kuta area.

The general map of Bali shows the locations of the dive sites very well and as you can see the south is poorly endowed by nature. Party yes, beautiful beaches yes, diving better not :-)
1 and 2: Secret Bay and Menjangan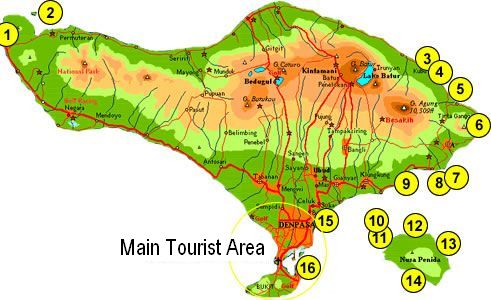 Dive site 1: Secret Bay

Secret Bay, next to Gili Manuk, comes in with only a very few corals and the visibility is often poor (less than 10 meters). Because of the location in the channel between Bali and Java the water temperature is rarely higher than 25 degrees.

So why go divers there? The answer is simple. Already in shallow waters live species which can not be found somewhere else in Bali (or they are hard to find). We are talking about small animals like ghost pipefishes, seahorses or nudi branches. Usually we do beach dives in Secret Bay but with a boat you can reach every nook and corner along the mangroves-lined bay. Maximum depht is 12 meters. For photographers is Secret Bay a must.

Dive site 2: National Park Menjangan

To get from Kuta area to the small island Nusa Menjangan it takes more than four hours with car and boat. The dive sites are mainly walls covered with sea fans.

Garden Eel belongs to the most varied dive site of Bali with hundreds of sand eels, a wall with a huge sea fan and a beautiful slope. Bigeye Tuna and Whitetip Reefsharks swimming around here.

Pos Dua is a 50 meters deep wall, dives are really slow-paced. Because there is never strong current the fish population is less than in Garden eel. But the wall itself is amazing.
3 to 6: Kubu, Tulamben, Amed and Gili Selang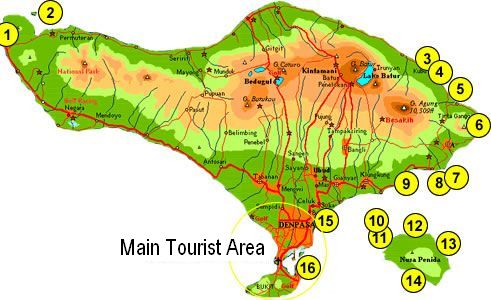 Dive site 3: Kubu

Kubu is a small village at the north-east coast of Bali. Like in Tulamben the beach consists of black shingle.

Two wonderful slopes are located in front of the Monkey Resort. In an angle of 45 degrees they go down to 40 meters. The reefs are completely covered with hard and soft corals. Colored fishes are everywhere, sleeping reef sharks, schools of barracuda or schools of mackerel can be found.

A night dive in Kubu is also highly recommended. Spanish dancer and stonefishes are very common.

Dive site 4: Tulamben

Tulamben comes with five dive sites, three can be reached from the beach. Tulamben is also for snorkelers very attractive.

The most popular dive site in Indonesia is probably the wreck U.S.A.T. Liberty The 120 meter long wreck can be found just 30 meters offshore in a depth between four and 35 meters. It's easy to dive even discover scuba diving is possible. In late April and just for one week and only early in the morning sunfishes comes up.

The 55 meters deep so called Drop Off (or simply Wall) is home of a nature's masterpiece. At the first corner on a depth of 27 meters you should not miss the huge sea fan.

Coral garden is a small and shallow dive site but the favorite place for photographers. Ribbon eels, leaf fishes, mantis shrimps and small blacktip reefsharks are only a small range of what you can see in Coral garden.

To Batu Kelebit we use the traditional fisher boats. It's only a 10 minutes ride to the rock formation in a depth of 40 meters. Sharks like the rocks as well.

Batu Niki is similar to Batu Kelebit, but the coral growth starts alredy in shallower waters. You should search for razorfishes an frog fishes.

Dive site 5: Amed

Amed is a small village of fishermen close to Tulamben. Both dive sites Cemeluk Slope and Light One can be reached by using small local hooker.

After a short boat ride the most beautiful wall (37 meters) in Bali is waiting. Lots of table corals are home of sleeping baby sharks.

In earlier times they used dynamite for fishing and the marks are still visible. After heavy rain during the raining season (november to march) the visibility can go down to zero.

Dive site 6: Gili Selang

Due to strong currents this dive site is only for experienced divers an option. It takes 40 Minutes by car from Tulamben and 30 more minutes with a boat to reach Gili Selang.
The maximum depth is 25 meters the visibiity is usually between 10 and 30 meters (up to the season and current). The rock is only seperated from Bali through a small channel and its over and over covered with hard and soft corals. Like always in strong currents sharks feel home as well as tuna and mackerels. Also bumphead parrotfishes are always here.
7 to 9: Cansi Dasa and Padang Bai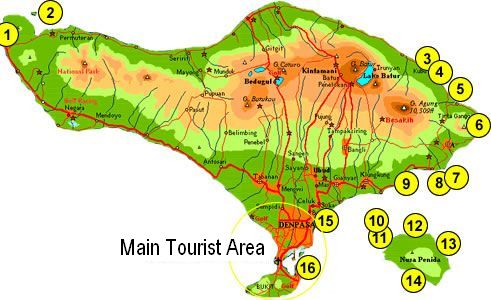 Dive site 7: Gili Biaha

The conditions at the surface can be really rough at Gili Biaha, you will feel the surge under water distinctly. The current is not very strong at this rock.

During the dive we can enter a cave to have a look for sleeping reef sharks. Seasnakes are common as well as frog fishes and leaf fishes.

Dive site 8: Gili Mimpang / Tepekong

It's a 15 minutes boat ride from Candi Dasa to Gili Mimpang. The four rocks are permanently visited by reef sharks and blue spottet rays. Even sunfishes like this place. Maximum depth is 20 meters.

Gili Tepekong is on two counts famous: Because of strong downward currents Tepekong is Bali's most dangerous dive site but also the most spectacular. Gili Tepekong has fives different dive sites, 'Canyon' is the most impressive. No corals but the scenery looks like a amphitheater. Max. depth is 30 meters.

Dive site 9: Blue Lagoon

Blue Lagoon is located in front of Padang Bai. The small balinese fisher boats (Jukung) need 10 minutes to reach the dive sites. Max. depth is 25 meters.
The currents are never strong therefore the dive sites are perfect for divers with less experience. Diving is quite rich in variety, huge blocks of corals, a small wall and a slope covered with soft corals and reef fishes. Blue Lagoon is home of turtles, whitetip reefsharks, stonefishes, crocodile fishes and cuttlefishes. Even sunfishes show up during season at the outer reef.
10 to 14: Nusa Penida, Nusa Lembongan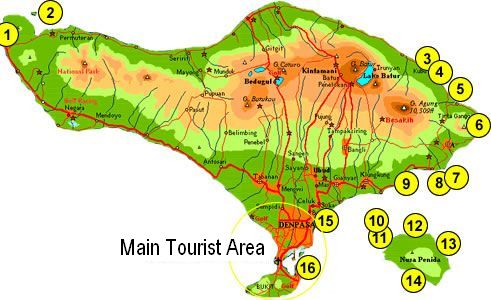 Dive site 10: Nusa Lembongan

Cristal and Blue Corner are two completely different dive sites at Nusa Lembongan. Cristal has a wonderful growth of soft corals and during the season there is a good chance to meet sunfishes. But for a sunfish dive there must be high tide (no current) and the dive must be a deep dive.
Blue Corner is the opposite. Strong but straight running currents, very shallow hard corals. Due to the curents there is a good chance to see bigger fishes even dolphins are sometimes there.

Dive site 11: Chrystal Bay / Gamad Bay

Crystal Bay is famous because of its bat cave and as no. one dive site for sunfish sightings. Christal Bay and Gamad Bay are really untouched, they are located inside the channel between Nusa Penida and Nusa Cenningan. Currents up to 10 knots are possible! Save diving is only at high tide with no current possible. If you want to dive here, the pickup time can be quite early.

The coral growth is plane and chunky due to the strong currents.

Dive site 12 und 13: Nusa Penida / Malibu

Nusa Penida comes with not less than 25 dive sites. The most popular are Secola Dasar, Ped, Sendal, Malibu, Katapang and Toja Bake. All dive sites are flat sloping reefs.

Diving at Nusa Penida is usually drift diving. 80% of the reefs are optained, the amount of reef fishes is negligible. But here you have the best chance to meet big fishes. Close to Sendal Herbie met once a big fish, its name was Orca! Yeees, a real whale. The average depth is 25 meters.

Dive site 14: Mantapoint

The name is program... These two at the backside of Nusa Penida located dive sites are the only ones where manta rays can be seen in Bali. It is a real early morning trip because its a long way to Mantapoint. Manta rays will be there only in the morning so forget for a moment that you are in holidays and get up early :-)

Beside manta rays there is nothing to see. No corals because of the permanent surge, no fishes because of the missing corals.
15 and 16: Sanur and Nusa Dua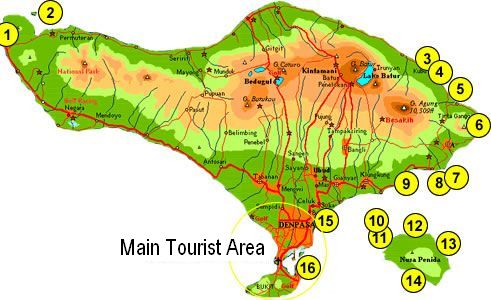 Dive site 15 and 16: Sanur / Nusa Dua

Not much to say about the very rare dive sites in South Bali. Mostly bad visibility the coral growth is poor. Nusa Dua is a perfect dive site for less experienced divers to refresh some skills.